We are Manufacturer, Supplier and Exporter of Hydraulic Pusher, Powerised Pusher Trolley, Powerised Transfer Trolley, Punch Out Machine, Mould Box, Mould Pallet Car, Mould Weight & Mould jacket. Our setup is situated in Kolhapur, Maharashtra, India. Majorly we serve customers from African, Gulf countries and all over India.
Powerised Transfer Trolley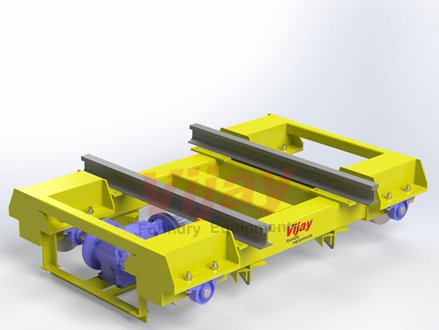 Overviews
Powerised transfer trolley system is an important part in mold handling.it is used to carry the molded mold or knockout mold box from one track to another. Heavy fabrication structure, heavy wheels, plumber block bearing, shaft & gearbox break motor are used in this trolley. The trolley is started & stopped at accurate position with the help of VFD control, sensors & break motor.
Features
By mounting the gear motor on the direct shaft we get better efficiency.
Moulding boxes are operated smoothly as the trolley starts & stops at a certain constant speed.
Main role of powerised trolley is for high production.
Trolley operated without human effort
Maintenance is minimal.
Ranges
For boxes of 20"x20" to 75"x60"